Tim Holland is a native of Louisville and graduate of the University of Kentucky with an economics degree. Holland has been with RE/MAX since 2006 and licensed to sell real estate in the state of Kentucky since 2004. Additionally, he has earned the prestigious Graduate, REALTOR® Institute (GRI) designation.
Throughout his RE/MAX career, Holland has been a top performer, resulting in the achievement of many top sales awards. In 2015, he was inducted into the RE/MAX Sales Hall of Fame. This is awarded only to a select group of high-producing REMAX Sales Associates. He credits his success to hard work, truly caring about his clients and a strong desire to help them achieve their housing goals.
Holland's clients benefit from his extensive experience working with builders, remodelers, real estate flippers, investors and corporate relocation service companies. He has represented clients selling family estates, foreclosures and short sales. Holland takes pride in assisting his clients through his real estate knowledge and by providing exceptional customer service.
In addition to selling real estate, Holland has given back to his profession through volunteering his time serving on various committees and boards of the Greater Louisville Association of Realtors. He has been both the Vice Chairman and Chairman of the MLS Improvement Committee, a member of the Advertising Task Force and was elected by his peers to serve three years on the GLAR Board of Directors
.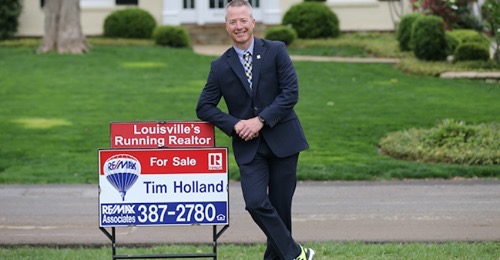 Family and community are both very important to Tim Holland. He and his wonderful wife have four children. He enjoys coaching his kids in sports and is very active in his church community. He has been a St. Matthews City Councilman since 2014. With any free time, he enjoys playing the guitar, running marathons and woodworking.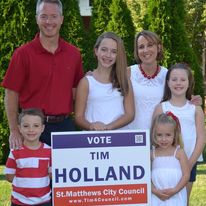 What do Tim's Clients Say?
"Tim was fantastic through the whole process. You really get the understanding that he is out to help his clients. I couldn't recommend him anymore highly. He helped us buy our house five years ago and we came back to him when it was time to sell our rental. I'm sure we'll call him up again when its time for another home." 
- Nick Eckhart
"Tim is a true professional and an expert Realtor. He was responsive to all our needs and questions. Tim put us at ease in every step of the process. We would recommend Tim to our family and friends with no hesitation." 
-  Mike Hicks
"Tim was wonderful to work with from start to finish. We had a complicated move from across the country with a tight deadline. He was able to accommodate our schedule and made himself completely available during our scouting trip when we flew back to house hunt. Then he was able to coordinate logistics from long distance once we had a contract on the house. He was the sole real estate agent in our transaction and was able to professionally represent us and also assist the home owner with all necessary selling details. We felt he negotiated well for us and we were pleased with the outcome. He helped us manage all the necessary inspections and worked with our local family member who was assisting with our home inspections since we couldn't be there in person for those. Numerous times he dealt with the three hour time zone difference between CA and KY often staying up late to accommodate the limited times we had available to talk or write up offers. He was kind, friendly, courteous, knowledgeable, and a pleasure to hang out with even on our most exhausting days of house hunting. Total pro. We are so pleased that we found a great house in our budget in the exact area we wanted to live in Louisville."  
-  Amanda Reiss